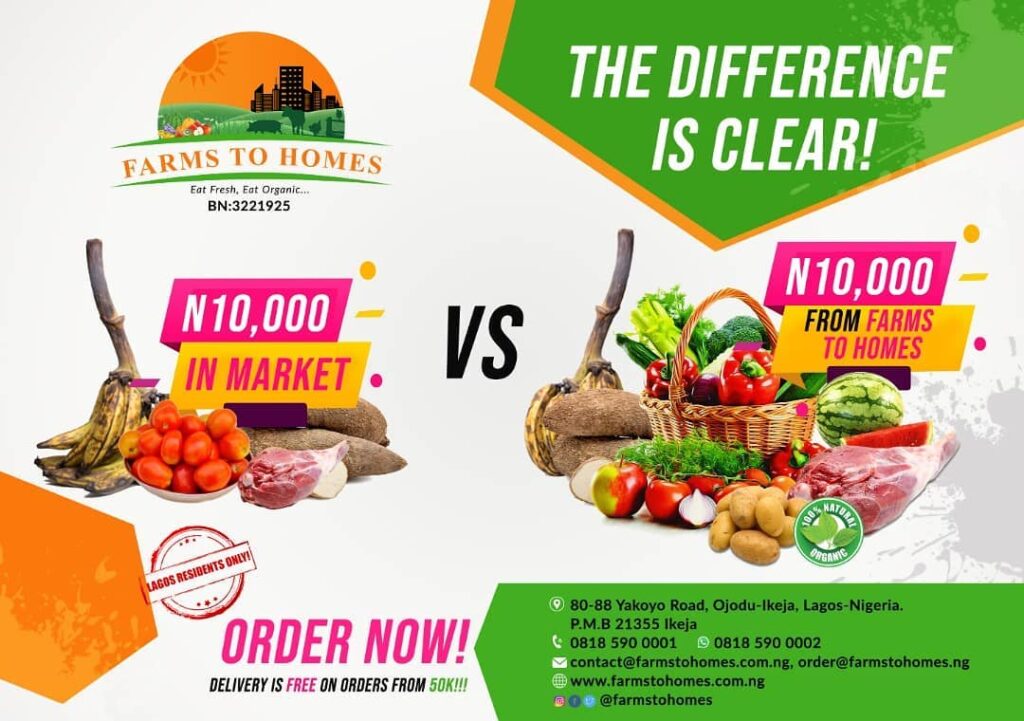 Farms to Homes
Do all your grocery shopping in one place and have them delivered directly to your doorstep.
Buy your fresh produces like
Tomatoes ? , Peppers ?
Onions ? , Smoked Fish ?
Chicken ? , Goat ?
Ram ? , Cow ?
Potatoes ? , Lettuce ?
Kale, Cabbage
Cucumber ? , Watermelon ?
etc at Farmer to Eater prices
Enjoy incredibly fresh produces and incredibly friendly prices.
Take advantage of this and do your holiday staple food and grocery shopping from the comfort of your home via your mobile phone and escape the rigor of the scorching sun and unwanted banters.
All orders will be delivered directly to your doorstep.
100% Organic?. 100% Healthy?️‍♀️. 100% Affordable?. We are Farms to Homes.
????Call us on 0818 590 0001, or chat us on 0818 590 0002 to get our full stock list and place your order. We deliver to any location in Lagos????
Location
Monday

Tuesday

Send an Email to this Business




Is this your business?
Claim this listing to own this page. Also Verify your business to boost confidence in your brand. Comes with a Verified Seal. (Like this)
Claim & Verify Now!