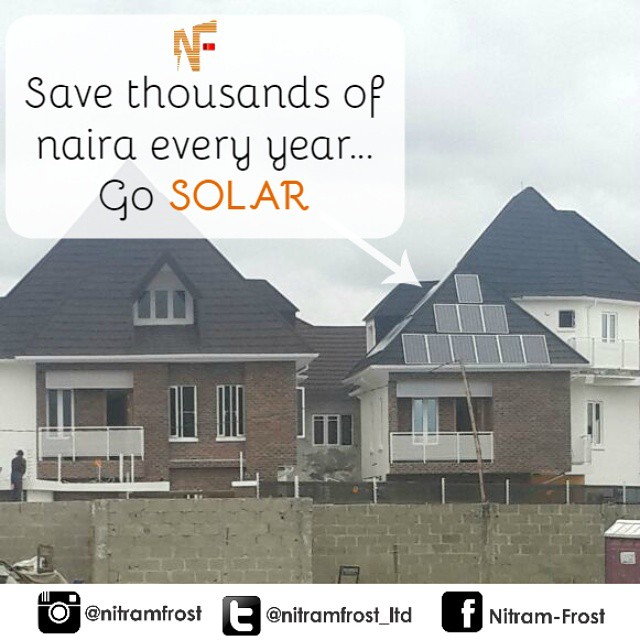 Nitram-Frost Limited
Nitram-Frost Ltd. is an ultra-modern, dynamic engineering firm with a specialty in alternative energy sources and design of special machines.
We provide a wide range of products and services that aim at solving the power problems in Nigeria. Nitram- Frost aims at providing its customers with affordable and durable products.
Products
- Installation of extra quiet and wholly efficient inverter systems from as small as 0.5KVA to 500KVA.
- Installation of solar panel systems of various capacities (automated boreholes inclusive).
- Automatic Voltage Regulators and durable stabilizers.
- Supply of deep cycle batteries (lead, gel and AGM) batteries for existing alternative energy systems.
- Production of special chargers and charge controllers
- Installation of windmill systems able to perform a wide range of functions
- General electrical installations, electrical drawings and supplies
- Design and implementation of smart circuits, such as security and monitoring systems, automated sensors, C.C.T.V, alarms e.t.c.
- Repair of existing inverter systems.
- Site analysis, and wiring new buildings
- Routine maintenance and services for clients who have previously purchased our product, or have faulty systems from other manufacturers.
Location
Monday

Send an Email to this Business




Is this your business?
Claim this listing to own this page. Also Verify your business to boost confidence in your brand. Comes with a Verified Seal. (Like this)
Claim & Verify Now!